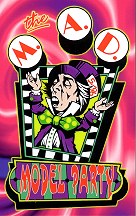 arage kit heaven! The fourth annual Mad Model Party, presented by Sideshow Inc. will be held at the Pasadena Center in California on Saturday May 24th from 10am to 6pm and Sunday May 25th from 11am to 5pm. Attendance will be $10 per day (kids 10 and under are free). The designated hotel is the Pasadena Holiday Inn - 818-449-4000 - 50 yards from the convention hall.
Nearly 100 dealers will be on hand showcasing the latest in resin and vinyl figure model kits. As always, expect quite a few celebs to be in attendance such as: Clive Barker, Bernie Wrightson, William Stout, Tim Bradstreet, John Landis, Kelly Freas, Bob Burns, Yasushi Nirasawa, David Fisher, Tom Gilliland. Plus, The Academy Awards of Figure Model Contests! This is going to be a great show!

The show hotel is the Pasedea Center Holiday Inn:
Holiday Inn
303 E. Cordova St.
Pasedena, CA 91101
Phone: (800) 457-7940
Phone: (818) 449-4000

The show is held at:
Pasadena Center
300 E. Green St.
Pasadena, CA 91101
Phone: (818) 793-2122
Fax: (818) 793-8014

For more party info contact:
Sideshow Inc.
31364 Via Colinas #106
Westlake Village, CA 91362
Phone: (800) 474-3746
Internet mail: SIDSHOprod@aol.com
AOL mail: SIDSHOprod

Some of the show highlights of last years show:
The hottest new releases
Rare collectibles
Movie Props
Hard to find kits
Free professional seminars on: painting, sculpting, and scratch building

The Gremlins in the Garage webzine is a production of Firefly Design. If you have any questions or comments please get in touch.
Copyright © 1994-1997 Firefly Design.