Mr. Freeze - The Iceman cometh! Shipping this June after its debut at the Mad Model Parly on Memorial Day weekend is Toshi Usui's dynamic sculpture of this chilly Batman foe. Includes theme base and nameplate.

Mr. Freeze Solid Model Kit
Item #37314 / MSRP $125.00
1/8 Scale / Figure 8-3/4" Tall / Sculpted by Toshi Usui
Includes Ice Stalagmite Base, Nameplate, and Optional Glasses
Begins shipping in early June 1997


Joker On Throne - Just released is Horizons newest 1/8 scale Batman figure, The Joker On Throne. Sculpted by Steve Wang (Batman from Batman Retums, Wind Slasher), it is our first figure model that is seated. Includes nameplate.

The Joker On Throne Solid Model Kit
(pictured with The Penguin and Two-Face, each sold separately)
Item #37311 / MSRP $125.00
1/8 Scale / Throne 7" Tall / Sculpted by Steve Wang
Includes Throne, Nameplate, and Pistol
Now Available


Two-Face will join the growing collection of Horizon/Batman Figure kits soon. Sculpted by Toshi Usui, this piece is gorgeous (well, at least half of him) and features his trademark coin, a bar table base and nameplate.

Two-Face Solid Model Kit
Item #37305 / MSRP $99.95
1/8 Scale / Figure 9" Tall / Sculpted by Toshi Usui
Includes Base with Bar Table and Nameplate
Begins shipping in May 1997


The Penguin - Another classic Batman villain joins Horizons 1/8 scale line of kits. The Penguin, dressed to kill, features his umbrella, cigarette holder, and monocle. Includes base and logo nameplate.

The Penguin Solid Model Kit
Item #37310 / MSRP $99.95
1/8 Scale / Figure 7-3/4" Tall / Sculpted by Charles Rivera with Jeff Kokin
Includes Base, Nameplate, Umbrella, and Cigarette Holder
Begins shipping in early May 1997


The Joker - Back By Popular Demand! The Joker 1/6 scale Vinyl Kit Is Returning! One of our most popular kits ever is about to become available once again. The Joker 1/6 scale Vinyl Model Kit, sculpted by Taishiro Kiya, will be re-issued soon. Originally released in December 1993, this kit quickly became one of Horizons hottest sellers. Discontinued a year-and-a-half later in vinyl, it was brought back as a Solid Model with an added diorama base in December 1995 (which is still available). This month the original vinyl version will be available again and at its original price as well! (Note: This version does not include a base)

The Joker Vinyl Kit
Item #HOR056 / MSRP $45.00
1/6 Scale / Over 12" Tall / Sculpted by Taishiro Kiya
Originally released December 1993, discontinued two years later.
Now made in USA from brand new, improved molds.
Begins shipping May 1997


Horizon News Flashes
Horizon's entire Marvel Comics line to be discontinued!
Horizon has been making model kits of Marvel Comics' heroes and villains for 8 years. Most vinyl model kit enthusiasts own at least one Horizon/Marvel kit (if not the entire collection) and collectors anxiously await every new release while desperately searching for those kits they might have missed. Unfortunately, due to license expiration, this popular line will now be discontinued. Horizon will stop production of all Marvel kits at the end of the year and stop selling all of their Marvel Vinyl and Solid Model kits after February 28, 1997. Of course, retailers and distributors may have many of these kits available for some time after February 28th but, as past Horizon discontinuations have revealed, these kits will quickly become highly sought-after collector's items selling for far more than their original retail prices. Don't miss this last chance to stock up on some of the hottest model kits around!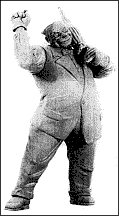 The Penguin is Coming
DC Comics' infamous Batman nemesis, The Penguin, will be heading your way soon. The next character to join Horizon's expanding line of 1/8 scale Batman figure kits, The Penguin will be available beginning in February '97. The kit, sculpted by Charles (Bane) Rivera, will include the Street Base with Manhole and an umbrella. The suggested retail price is $99.95.
The Joker Vinyl Kit is Returning
One of Horizon's most popular kits ever is about to become available once again. The Joker 1/6 scale Vinyl Model Kit, sculpted by Taishiro Kiya, will be re-issued soon. Originally released in December 1993, this kit quickly became one of their hottest sellers. Discontinued a year-and-a-half later in vinyl, it was brought back as a Solid Model with an added diorama base in December 1995. This coming February the original vinyl version will be available again and at its original price as well! The suggested retail price is $45.00.
Also from HORIZON and DC Comics
The Whirly-bats 1/24 scale Solid Model Kits with Batman or Robin figures are available now Knightquest Batman 1/8 scale Solid Model Kit will be available before Christmas And, coming soon in 1997 1/8 scale kits of The Penguin (see above), KnightsEnd Batman and a new version of The Joker, seated on a throne, sculpted by Steve Wang, plus much, much more! More information on these kits and other exciting new releases is on the way...
Batman vinyl kits are coming soon now with bases included
Horizon will soon begin releasing vinyl versions of their popular 1/8 scale Batman model kits: Batman, Robin, Catwoman, The Riddler and Bane. Each kit will include the figure and a street base with manhole. Horizon is frantically working on themed bases, available separately, for Batman and each of the other characters as well.
Announcing a new line of Horizon Collectibles
Horizon is introducing a different form of the Original Statuettes series: HORIZON Original Statuettes with Some Assembly Required. This line will come fully painted but will require a minimal amount of fairly easy assembly that practically anyone can do. Unlike our model kits which require the use of sharp hobby knives and other hobby tools to assemble, these statuettes have male/female joints that fit together perfectly and only require gluing
First to be released in this series are two popular characters from Terminator 2: Judgment Day 17402 T2 T-800 Endoskeleton and 17403 T2 T-800 Terminator ("Arnold"). Each easy-to-assemble statuette includes a themed base with logo plate. They are 1/5 scale solid resin, hand-painted collectibles. Available in early 97.
Also NEW Terminator 2: Judgment Day Mini Figures: Pewter mini figures of the T-800 Terminator (17202), Sarah Connor (17203), and the T-1000 (17204) will be released in early '97 with more on the way.

The Gremlins in the Garage webzine is a production of Firefly Design. If you have any questions or comments please get in touch.