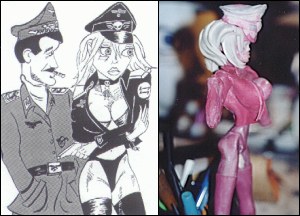 From Pretty Graphic Comix comes Heidi The Fearless Flying Foo Fighter from the pages of the underground comic War Sluts. Heidi is sculpted by Phineas T. the artist/writer of the comic. This resin kit will be produced in 1/6th scale for a figure height of nearly 12 inches including hat and high heals. She will mount on a base shaped like an Iron Cross. Also included will be a War Slut's comic book with painting instructions by Kitbuilder's master builder Rich Larson. Extras like Heidi's medals will be made of pewter or etched metal, and a full size Foo Fighter pilot wings will be included. These wings will be white metal with .999 fine silver plating suitable to wear. A numbered certificate of authenticity will complete the package.
For more information contact Bobby Bergsman, Pretty Graphic Comix, 875A Island Drive, Suite 322, Alameda, CA 94502; telephone (510) 522-0339.
The Gremlins in the Garage webzine is a production of Firefly Design. If you have any questions or comments please get in touch.