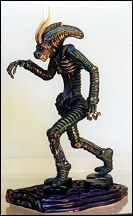 Nightlife Productions releases Alpha the first in a series of unique creations called Biohazards. This 10 inch tall original sculpture is $40.00 (postage and handling included in the price) and is ready for shipping. Biohards are original, copyrighted and exclusive through Nightlife. Concept is a joint effort of the demented minds of John Bushlow and Steve Goodrich. All Biohazards figures will be sculpted by Steve Goodrich.
Be forewarned, Alpha is the gentle, "normal looking" leader of the Biohazards. Beta, Gamma, etc. are coming!
Nightlife Productions
P.O. Box 5542
Deltona, FL 32728-5542
Phone: (407) 574-9003

The Gremlins in the Garage webzine is a production of Firefly Design. If you have any questions or comments please get in touch.