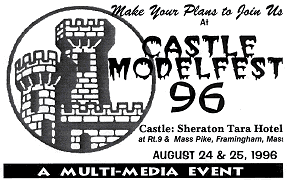 Advance Ticket Locations
Village Comics, 163 Bleeken St., N.Y.C
Federation Comics, 1 Sylvan St., Peabody, Mass.
Sarges Comics, 325 Rt. 12 Groton, CT.
Sarges Comics, 873 Boston Post Rd., Old Sanbrook, CT.
Sarges Comics, 52 State St., New London, CT.
Rubber Chicken Comics, 195 E. Main St., Milford, Mass.
Legend of Superheros, Main St., Stoneham, Mass.
Comic Adventures, 801 Islington St., Portsmouth, N.H.

The Gremlins in the Garage webzine is a production of Firefly Design. If you have any questions or comments please get in touch.
Copyright © 1994-1997 Firefly Design.