Mad Model Party III: Review
Photo Index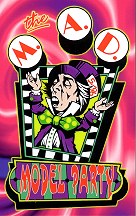 Photos by:
Jerry Shaw (jshaw@primenet.com)
Jay Adan (jayadan@kbt.net)
Denis Bohm (denis_bohm@fireflydesign.com)


Anubis - Demi
Artomic - Das Cabinet of Dr. Caligari
Artomic - Linnea Quigley
Artomic - Vampira
Billiken - Alien
Bowen Designs - War bust by Randy Bowen
Cellar Cast - Amazon's Pet
Cellar Cast - Primeval Princess
Cine Arts - 1:1 Karloff bust with animatronic eyes
Cine Arts - Full sized Robby the Robot
Creature Features - Wings
Dark Horse - Dracula (Never produced)
Diorama Fantasies - Built-up Neil Anderthyal
Diorama Fantasies - Built-up T-Rex
Diorama Fantasies - Various Build ups
Dimensional Designs - Bowen Werewolf (Prepainted)
Eerie Cast Concepts - Congolmeron
Falchion - Iria
Falchion - Iria
Falchion - Zeiram
Falchion - Zeiram
Falchion - Zeiram (with base)
Falchion - Iria, Zeiram, and Monster
Fewture - Guillotina, soon to be released
Fewture - Guillotina (closeup)
Fewture - Medouxsa
Fewture - Nina Gillman Suit
Fewture - Nina Gillman Suit (closeup)
Flying Gung Brothers - Emperor Alien
Flying Gung Brothers - Emperor Alien (closeup)
The Flying Gung Brothers - Stalking Zenomorph
GEOmetric - Bad Seed, Klingon bust, and Gillman door hanger
GEOmetric - Re-issue of Randy Bowen's Pumpkinhead
Geometric - King Kong
Geometric - Nosferatu bust
Geometric - Pumpkinhead bust
Geometric - Unnameable
Artist Tom Gilliland
Golden Apple - Various kits
Graphitt Designs - Prepainted Vault Keeper
Graphitti Designs - Prepainted Old Witch
Grey Zone - Face Hugger
Grey Zone - Swine Sentry
Halcyon - Judge Anderson (modified)
Heroes From Another Planet - 1:1 Predator Mask
Heroes From Another Planet - Raptor bust
Hogan's Bones - Untitled soon to be released
Hogan's Bones - To Die For
Hogan's Bones - To Die For (closeup)
Horizon - Indiana Jones diorama
Horizon - Joker
Horizon - Stargate diorama
Imagine - Zyla
Impact - Genocyber
Inteleg - Chtulu
Inteleg - Cthulu (closeup)
Inteleg - Vinyl 1/4 scale Iria
John Tucky - Bride of Frankenstein Diorama
Kotobukiya - Guin
Kotobukiya - Nightmare kit in vinyl
Kotobukiya - Nightmare kit (closeup)
Kotobukiya - Elric of Melnibone in vinyl
Kotobukiya - Elric of Melnibone (closeup)
Scott Leberecht - Original sculpture
Jim Lawrence - Roswell Alien
Legends in 3 Dimensions - Maxx bust with Izz
Legends in 3 Dimensions - Maxx bust and Izz (closeup)
Legends in 3 Dimensions - Aeon Flux
Legends in 3 Dimensions - Aeon Flux (closeup)
Mad Lab's - Tiny Terrors
Max Factory - Devilman
Max Factory - Future Ninja II
Max Factory - Guyver and Zoanoid
McVey - Demon Bust
Miniations Productions - Demolition Cop
Miniations Productions - Battle Angel Alita
Miniations Productions - Battle Angel Alita
Miniations Productions - Battle Angel Alita
Monsters in Motion - Babylon Princess
Monsters in Motion - Dr. Patorius (with diorama)
Monsters in Motion - Hidden Agenda
Musasiya - Akane
Newtype Hobbies - Various Anime kits
Paradise World Traders - Velociraptor at the Kit Kraft table
Planet Earth Production - Rising From Her Shadow Blood
Plastic Age Concept - Yetchh
The Replicator - Bode Broad
Scoop - Cat Woman
Screamin' - Boba Fett
Screamin' - CryptKeeper
Screamin' - Mars Attacks: No Place to Hide
Joe Sid - Blank Male kit, with samples of built-ups
Joe Sid - Blank Male as Death Dealer
Skyhook - Doom video game character kits
Spectral Motion - Netherlord
Spectral Motion - Netherlord
Streamline Pictures - Franken's Gears
Streamline Pictures - Elfquest
Streamline Pictures - Guy
Streamline Pictures - Mach Angel
Streamline Pictures - Starlight Angel
Streamline Pictures - Goro
Streamline Pictures - Heavy Metal
V.E.C - Hoggle kit
Verotik - G.O.T.H., Dalkiel, and Satanika
Verotik - Works by sculptor, Sugita
Verotik - Various kits
Verotik - More kits by Sugita
Verotik - Sugita's Batman (not available)
Verotik - Satanika (not available)
Vision Models - Bruce Lee
The following is a list of pictures we need help identifying. If you know the company name, kit name, or both please e-mail us with the picture number (e.g. img1021.jpg), company name and kit name. Your help is GREATLY appreciated!
img1011.jpg - ? - Luke Skywalker on Tauntaun
img1017.jpg - ? - Godzilla vs Kali
img1021.jpg
img1025.jpg
img1026.jpg - ? - Ah, My Godess - Belldandy
img1030.jpg - M1 - Gamera vs?
img1037.jpg
img1051.jpg
img1064.jpg
img1069.jpg - ? - Rogue
img1075.jpg
img1076.jpg
img1082.jpg
img0038.jpg - ? - Pinhead
img0042.jpg
img0051.jpg
img0054.jpg - ? - Dawn's Temptress
img0055.jpg
img0060.jpg - She Hulk convert
img0061.jpg - Thor convert
img0062.jpg
img0063.jpg-Groo by Sergio Aragonez
img0064.jpg
img0075.jpg
img0080.jpg
img0084.jpg
img0090.jpg
img0091.jpg - Godzilla vs Destroyer
Note: We did our best to identify the kits in the pictures, but please let us know if we made any mistakes so we can correct them. Also, if we missed getting a picture of your kit please send us one so we can add it to this review. Thanks!

The Gremlins in the Garage webzine is a production of Firefly Design. If you have any questions or comments please get in touch.
Copyright © 1994-1997 Firefly Design.