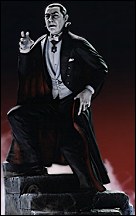 Dark Horse is now releasing this much awaited statue Bela Lugosi King of the Vampires! Sculpted by Thomas Kuntz, this will be a "must have" for Dracula fans! This is limited to only 1000 pieces, is pre-painted, and will retail for $175.00.


The Gremlins in the Garage webzine is a production of Firefly Design. If you have any questions or comments please get in touch.
Copyright © 1994-1997 Firefly Design.